Cheap Locksmith Near Me Prices
Got in trouble? Do you need a professional locksmith who can help you out for an affordable rate? Go ahead and give us a call right now for affordable locksmiths in Los Angeles and surrounding areas.
Locksmith Near Me Service Rates
Whenever you need us Locksmith Near Me is ready to service all your locksmith needs for cheap locksmith prices. We have one of the most competetive prices in Los Angeles and surrounding areas. We are often being asked on "How much does a locksmith cost for replacing a lost car key?" When customers get to know our prices they often have to question them self why is that our prices are so lower than the other companies. And the answer for that question is pretty simple. Prices charged By Locksmith Near Me are always fair considering on the type of service performed.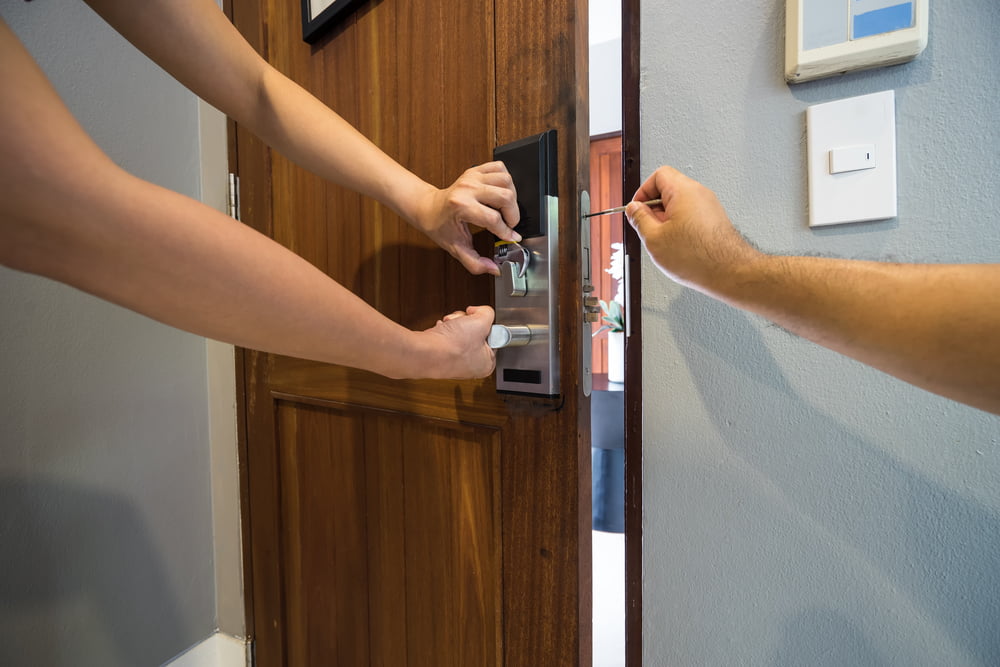 We believe that even if you need an emergency locksmith assistance right there and right now, it should not cost you a fortune. This is why we only hire locksmith proffesionals who are fair: the ones who want to make your life better and easier. We are the company who make difference in whole locksmith industry in Los Angeles, and if there is something we should do free of charge we will do it. We aren't those wannabe locksmith trying to make a buck off you when you are at you need our help most: we are here to help!   
Cheapest Locksmith Price Table**

Locksmith Service

Service Estimate 

Locksmith Service   
 Service Estimate 

$25

$25

Key extraction

$60

$45

Transponder key replacement

$119

$90

$60

$99

$60

$19

$30

Mailbox lock change

$45

Make a new car key (not copy)

$90

Install Window Bars

$90

$60

$60

Installing CCTV cameras

$300*

Alarm system installation

$300*

$25

Car alarm reprogramming

$60

Keyless entry installations

$70

Push Bar Installation

$90*

Car door lock installation

$70

Service Call Fee
$19
 * These prices are approximate estimates and are subject to change upon our locksmith's professional assessment.
All price quotes will require your signed approval before any work done. 
Locksmith Near Me crew are not only qualified and professional locksmiths ready and able to help with the attitude, tools and experience under their belts to get the work done right, but we also try our best to give you the best price in Los Angeles. Guaranteed! 
Lowest Locksmith Prices in Los Angeles
Our customers are getting prices for an expert locksmith services that never breaks the bank. Locksmith Rates given by Locksmith Near Me are the best deals only. How do we go with competition? We have something that none of our competitor does:
Our locksmiths are mobile, we don't have to pay for renting out the store!
Locksmith Near Me has only 1 website and that's the only thing we pay for, we don't need hundreds of spammy websites on the web for each city and neighborhood.
We are a large locksmith company to buy all our equipment in bulk for wholesale price: which means we save on our parts used for services, and so make you save your buck too.
All of our locksmiths are local for Los Angeles area, that's why we can get to you in 20 minutes, and we don't have to spend money on gas.

We absolutely cut any locksmith quote in half and now can provide with expert locksmith services for prices our customers can afford!

How to get a locksmith price?

Are you looking for an exact price a locksmith will cost you? We are waiting on your call and will provide you with a clear price estimate at any time. When we give you a service quote rate, the sum will include:

A service call fee
Labor cost
Any potential hidden fees like travel expenses & emergency service fees
Replacement parts for locks and keys

To find out an exact quote for a locksmith service you're seeking for, don't wait gives us a call right now!

Our Service Guarantee

All of our services come with 90 days guarantee. That means that we are so confident you will be happy with our services if you have any problems you can call us anytime within 90 days of the original service and we will come back to fix it again at no additional cost to you.

To get the locksmith near you services you need at reasonable estimate, contact our 24-7 hotline today!

Frequently Asked Questions

Will I get a price estimate over the phone?

Absolutely; we always give prices over the phone when it's possible.

How much will it be to hire a locksmith?

The service call fee is 19$, that's for our locksmith to drive out to you, the labor costs vary depending on the type of service needed

How much will it cost to re-key a lock?

Well it depends on the lock you, in anyways it's cheaper than getting the locks changed because when we re-key the hardware is not being changed. We can re-key any home locks as well as car door locks!

Do you charge extra for emergency lockouts?

We ussualy do not, but if you liked the service you can tip our locksmith only if you want it, we do not force our customers to pay more!

 

** Disclaimer Notice:

The price rates on this page are aproximate estimates only. They are pretty acurate based on our past experience, but a final price quote will always be provided in writing once our nearest locksmith reaches you and assesses the situation in person. Additionally, if our qualified and professional locksmith runs into an unexpected complication during the procedure, they will stop work to explain the situation to you and offer multiple choices for completion of the job at different prices. Then you will once again be provided with a written quote to sign off on before the locksmith once again resumes their job. Even if we run into unexpected surprises in the course of the job, we will try our best to make sure you don't!